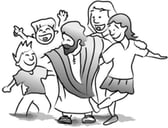 Paul Cooper,
Director of Religious Education
Welcome to St. Margaret Mary Alacoque's Parish School of Religion. SMMA's PSR is for students in Grades 1-8 and we provide elementary instruction in the Roman Catholic faith. The vast majority of our families live within our parish boundaries and attend school in the Mehlville District. A few of our students come to us from other circumstances and we are pleased to be of service whenever possible
SMMA's PSR meets on Monday evenings, 6 pm - 7:15 pm. We begin with Orientation the Monday after Labor Day and conclude our year with a special mass in late May. We do our best to coordinate our calendar with the Mehlville District's calendar and we also do our best to coordinate our program with Archdiocesan guidelines for PSR programs. There is an annual fee of $100 for the first child from a family plus $25 for each additional child from a family. (In 2nd & 8th Grades there is a small additional fee to cover sacrament expenses) -- Please be assured that we would never let these fees become a deterrent for attending the program!
We are very blessed because we enjoy the support of virtually everyone associated in any way with our program. The support of our families is so strong that we don't even bother with re-registering each year. We presume you're coming back unless you tell us otherwise! --- and speaking of registrations, we actively seek new registrants during August but new students can be registered anytime.
Our clergy are very visible in the program. We begin each evening with a short prayer service in church. 90% of the time at least one of the priests is there to greet the children and take part in the service. Many evenings they can be found in the classrooms as well. Likewise, major parish organizations lend their support and encouragement to our students. The Holy Name Society, W.I.N. & Athletic Association sponsor the gift of Bibles to our 6th Graders on Catechetical Sunday. W.I.N. sponsors our Christian Witness Awards and the Knights of Columbus present special rosaries to our 4th Graders. All the attention sort of makes you feel special doesn't it!?
A special feature of our program is something we call Emmaus Partners. An EP is an adult, usually a parent but sometimes a grandparent or someone else, who makes a promise to spend 15-20 minutes with a student in the week following a class to verify that the student understood the lesson. We provide the EP with guidelines and resources. In addition, there is a signature sheet that goes back and forth between PSR and home. The process makes us mutually supportive and true collaborators. When you get into it, it's really pretty cool. Well, I tried to address the kinds of questions I usually get when someone calls to inquire about PSR. If not, please contact me and I will do my best to fill in any holes. Blessings on you and your family. If we can be of any service, please let us know.
Sincerely.