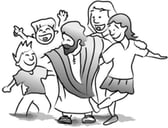 22-23 PSR Process
So, How are we going to do this? …
We have not yet totally escaped COVID limitations but we are in a much better place than the past couple of years. Two years ago we offered 3 PSR options and most of our families opted for an at-home, church directed option. Only about 25% of our children attended in-person, 6 – 7:15pm on Monday evenings. We had hoped that by Thanksgiving we would be able to return to normal but that could not happen. Last year we so hoped to be "back-to-normal" but did not quite make it. Most but not all of our families returned to in-person participation and some participated as "occasional" in-person attendees. We provided weekly, grade-level lessons via email for those not in attendance. It "sort-of" worked but it definitely was not as desirable as in-person.
As we look at our 22-23 edition of PSR we are anticipating that our sessions will be in-person. The at-home lesson plans are always available on this website but, as of now, I do not anticipate creating separate e-mails each week. At-home lessons could be put together by checking the lesson schedules for the appropriate grade level and then go to the plan for that lesson under "Catechist Resources." All of the handouts and other suggested materials are also available through the website.
We always begin with Orientation on the Monday after Labor Day which is Sept 12 this year. We mail out start-up information during the last week of August. We ask that all forms and fees be returned at Orientation. The fees are the same ($100/year + $25 per additional child in each family.). — Also, if fees pose a problem we can forego them — We do need some funds to operate but it's more important to us that you're here!